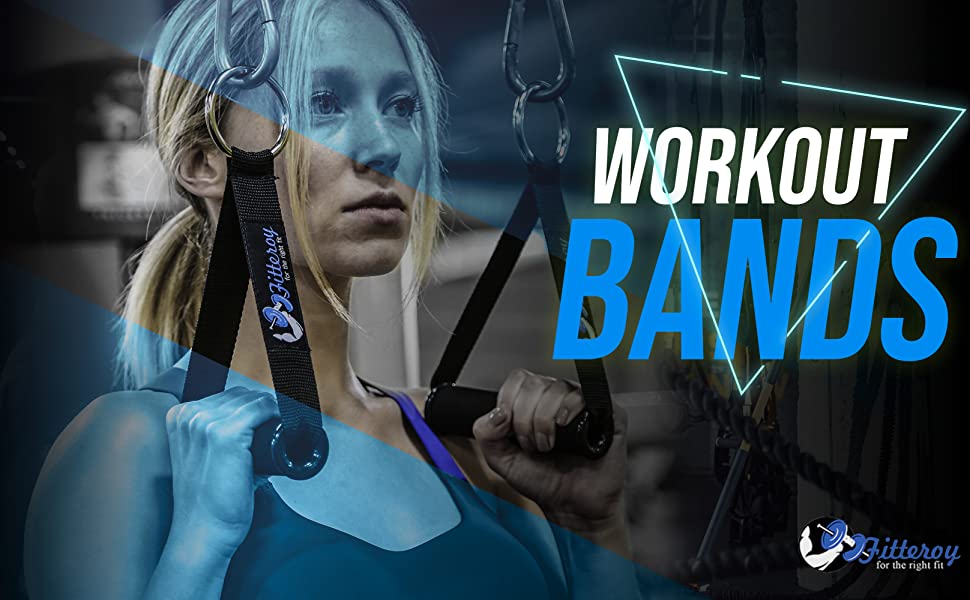 With you in mind!
We, at Fitteroy Inc., pride ourselves on the products that we have to offer……with you, the customer, in mind!
We are continuously working to meet your needs and adding more and more top quality fitness equipment that will please You!
Fitteroy Inc. is committed to helping you get your daily dose of exercise. We provide products that are multi purposed, strong and solid. They can be utilized for almost any workout session, whether at home, in the gym or on-the-go. It doesn't matter where you exercise or how active you are, you know you can trust in us to deliver a product that will greatly enhance and benefit both your health and your lifestyle.
Our passion for quality is what makes us Stand out from the rest!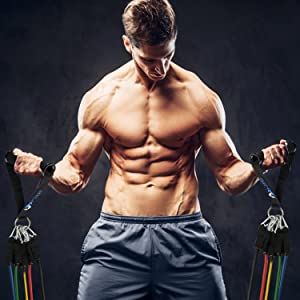 PROFESSIONAL GRADE
ABLE TO WITHSTAND INTENSE DAILY WORKOUTS!
Fitteroy is committed to getting you stronger and safer fitness products. We use only industrial strength materials that are safe to use and very comfortable.
Our exercise handles have been everyone's favorite for close to 10 years. They are known to be able to withstand tough and heavy weightlifting regimens.
The ankle straps and door anchor are constructed with heavy duty commercial grade materials and are very pleasant to use.
Don't fall for cheap lower grade band sets. You need bands and accessories that will last. This might be the best investment you've made in a long time!
KIT INCLUDES
5 Bands with tensile strengths of: 15 lb-Yellow, 20 lb-Green, 25 lb-Red , 30 lb-Blue, 40 lb-Black

2 Non-slip Premium quality fitness handles

2 Comfortable strong Ankle Straps

1 Large door anchor

Handy carrying pouch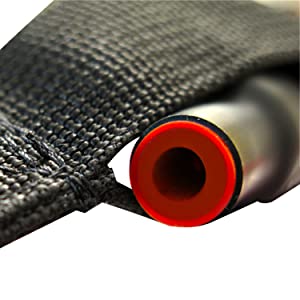 DURABLE AND LONGLASTING
Our bands are made using a continuous dipping process – the mold is dipped and layered many times with 100% natural Malaysian latex for strength, durability & added stretch.
The bands are securely attached to the clips with
heavy duty nylon fabric.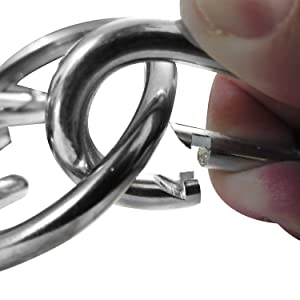 LARGE SOLID METAL CARABINER
The metal clips are big & strong. They are designed with a special ring that holds the band in place, unlike others that turn upside down.
The carabiners are firmly attached & secured to the band with a heavy duty nylon fabric.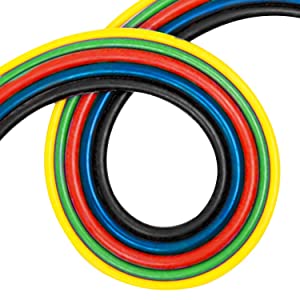 BUILD SERIOUS MUSCLE
You have the ability to combine the color and
strength coded bands to reach many different
levels of intensity.
For example: Combining the blue and yellow gets you 45 lbs. of resistance. Adding the green, will bring it up to 65 lbs. Combine all for a whopping 130 lbs. of resistance.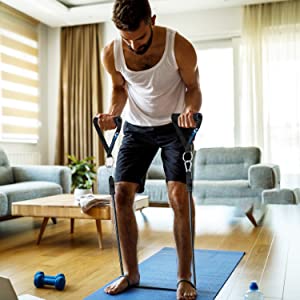 YOUR GYM AT HOME
Resistance bands are the best alternative to free weights and bulky pulley machines at gyms and
serve the same purpose.
Using rubber resistant bands takes little
preparation unlike going to the gym. Just change
into active wear, find space in your living room, basement, backyard or anywhere in your house
and sweat!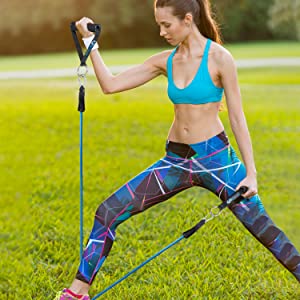 LIGHTWEIGHT, PORTABLE, CONVENIENCE
When traveling you can still enjoy a morning workout in your hotel room or on your patio.
Forget about long drives to the gym.
You've got everything you need in this handy resistance band set. You don't need to fall back on your resolutions even while vacationing.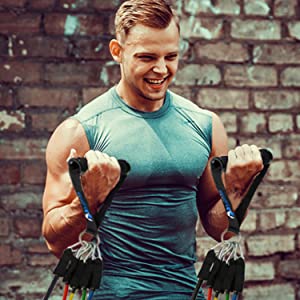 SUITS ALL LEVELS
Stretch band exercises are not only beginner friendly workouts, there is something for everyone. With variation and changes you can implement challenges even if you're an advanced lifter or athlete.
Our upgraded bands and accessories can endure heavy lifting by experienced weightlifters.